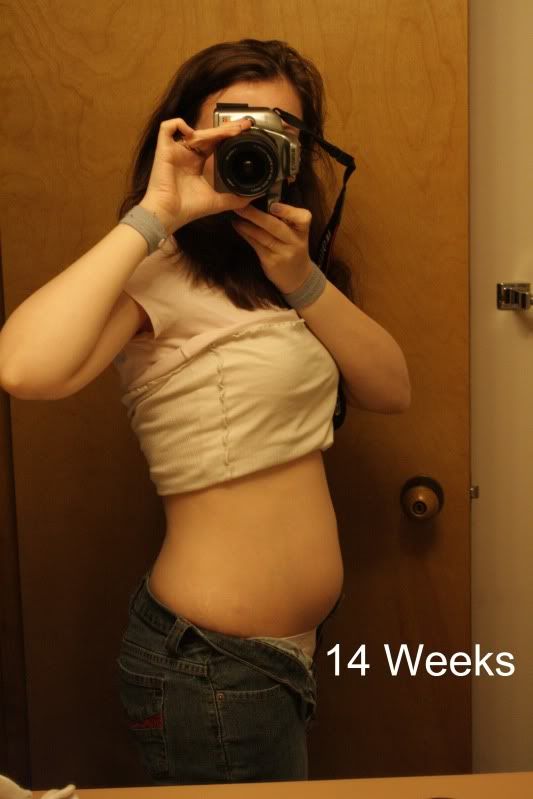 How far along?
14 weeks. Officially Peanut is a fetus... or in this household, a
baby
... just like last week and the week before. ;)
Weight gain/loss:
I should delete this question. Who wants to fess up to that one?
Wardrobe?
Regular ol' jeans and shirts. Occasional maternity stuff when my tummy's upset.
Stretch marks?
Just the little ones from last pregnancy. They're still cute. Let's hope that it stays that way.
Sleep?
Total stomach sleeper. Still able to be comfy on the tummy. Not sure how long that'll last!
Best Anna/Baby moment this week?
Surprisingly whenever people ask her if she's excited about a brother or sister this week, she hasn't yelled, "It's a sister!" Too many new faces this week, probably, with Easter and Joseph/Cassie's wedding. Anna was a flower girl and so darling. She figured out the basket/flower thing without practice and just instruction. She got to the end of the aisle, turned her basket upside down to make sure it was all gone, and then sat with daddy. lol!!!
Belly button in or out?
In.
Movement?
Nada. Sometimes I think I feel something, but I think it's all in my head... anticipation, y'know?
Nausea:
Sometimes I feel like my stomach has stopped working and all food feels like a rock in my stomach. Today it hit me: Relaxin! It's a hormone produced both during and not during pregnancy, but during pregnancy it hits its peak at 14 weeks. It must be relaxing my stomach muscle to the point that it's making me feel like I can't properly digest a darn thing! I'm no OBGyn, but it sure makes sense to me. The good thing is that this hormone is supposed to decline a bit until right before delivery so hopefully I find some relief in this particular stomach issue soon. (Dear God, please let this be!!!)
Time until graduation:
9 Days!